If you look around your community, you'll be sure to spot a local franchise or two. You may even know a franchise owner in your network, other community members or you may be one yourself. The can-do spirit of the franchisor/franchisee is substantial in the US. In fact, there are over one million franchises contributing over $800 billion dollars to the economy every year. From fast food to beauty services to fitness and more, the franchise business is thriving.
But why do budding entrepreneurs choose to open a franchise location instead of their own business? The reasons are pretty straightforward:
A franchise business has proven its viability and has a lower risk of failure
Franchise opportunities offer the independence to start your own business but with guidance, training and support from an established corporate framework
The availability of a wealth of expertise in specialized areas like finance, accounting, law, employee and management training, etc is attractive
Access to larger budgets for advertising, local marketing campaigns and other resources can help grow the business faster
Local franchise marketing: Why you should do it
Franchises should prioritize marketing for several reasons:
Brand Awareness
Local marketing efforts help create and maintain brand awareness for the franchise. It ensures that consumers are familiar with the franchise's name, products, and services, increasing the chances for franchise businesses of attracting customers and building a positive reputation.
Customer Acquisition
Marketing is essential for franchises to attract new customers. Effective local and national marketing campaigns and strategies help generate leads, drive traffic to franchise locations or websites, and convert potential customers into paying ones. This leads to increased sales and revenue.
Competitive Advantage
In a competitive market, local marketing allows franchises to differentiate themselves from competitors. By showcasing unique selling propositions, highlighting advantages, and communicating value to customers, local marketing for franchises, can stand out and gain a competitive edge.
Consistency and Brand Guidelines
Local franchise marketing ensures maintaining brand consistency, across all franchise locations. Adhering to brand guidelines in marketing materials, messaging, and visuals helps maintain a unified brand image, strengthening customer recognition and trust.
Local Marketing
Franchises often operate in various locations, and local marketing allows them to adapt to local markets. Local marketing strategies help tailor messaging, promotions, and advertising to specific demographics, preferences, and cultural nuances of local customers, resulting in better customer engagement.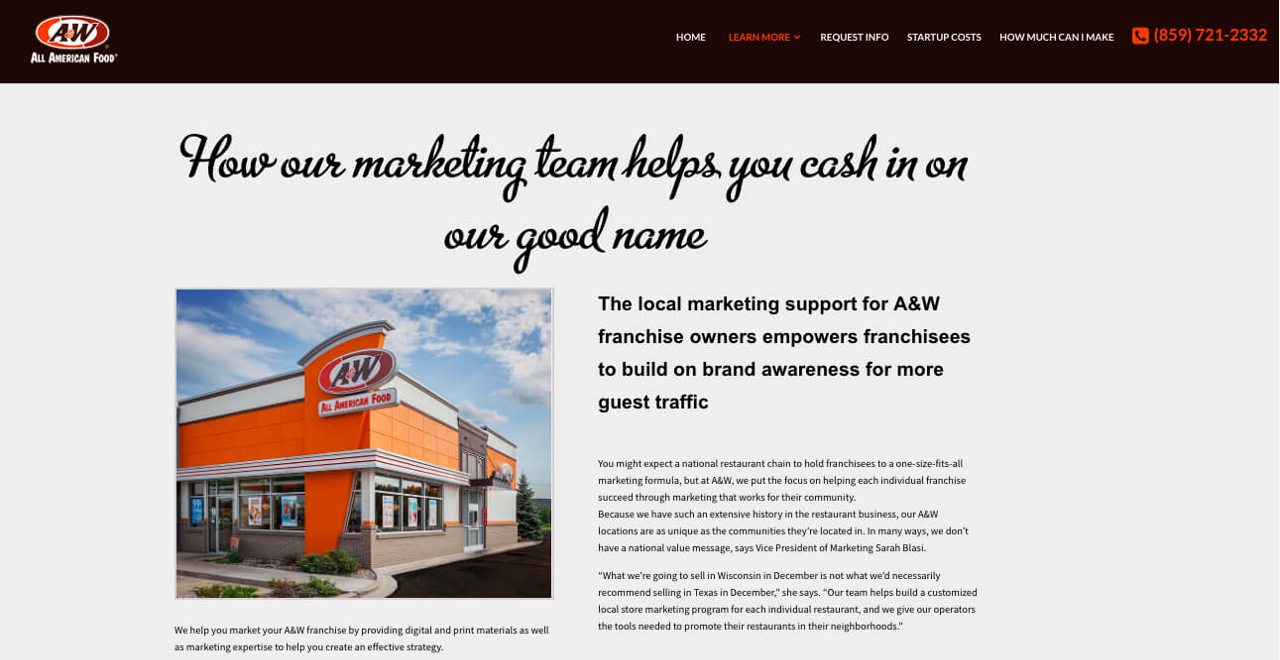 Local franchise marketing refers to branded online local marketing strategies for individual franchisees and their business locations under a broad corporate, national marketing strategy. It also refers to marketing to and recruiting potential franchisees with a strong, unique brand and business model. — Over the Top SEO
But despite all the positive aspects of franchising, there are issues franchisors and franchisees have to manage in order to build and maintain a fruitful relationship.
The foundation of this relationship is a solid local marketing strategy at both the national and local levels – including a social media strategy designed to build brand awareness, show brand consistency, unify the brand voice and serve as an extension of the customer service branch of the business.
Why Businesses Should Be on Social Media
Social media isn't just about catching up with distant relatives on Facebook or sniffing out the cutest dog influencers on Instagram – a well thought out and well executed strategy can have a huge impact on your business.
Everyone from massive corporations to your local mom-and-pop shops are on social media. In fact, 96% of small businesses say they use social media as part of their marketing strategy. And it makes sense – social media has become increasingly popular with just about every demographic over the past few years. That means you can reach your audience faster and easier than ever before.
Your audience will be looking for a steady stream of relevant, interesting and authentic content. As Soffront explains, maintaining an active presence on social media can help:
Build a community of loyal customers
Reach a larger audience and connect with influencers
Boost social proof, establish trust and credibility and enable you to manage your company's reputation
Have an open dialogue with customers and tap into customer feedback
Attract new talent
Along with the positive aspects comes a challenge that businesses must tackle in order to find success on social media. Sprout Social discovered that the second most popular place for customers to discuss their customer service problems was through social media (in-person complaints took the number one spot). That means that an integral part of your own social media marketing strategy is how to deal with negative comments online.
While this sounds daunting, the good news is the survey also found that 71% of people would be more likely to purchase from a brand after a positive experience on social media. That's exciting.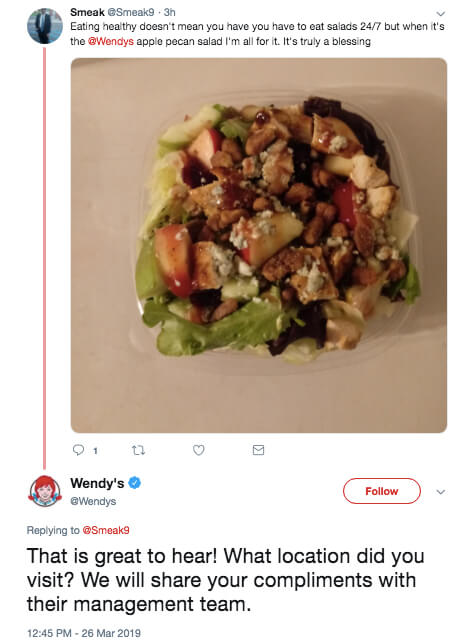 So how can a franchisor/franchisee leverage social media to attract customers and build their business? Let's dive in.

Franchisors Need to Set Up Franchisees for Social Media Success
One of the most amazing things about social media is the ability to speak directly with your customer, and them with you. Of course, many of these interactions are public and can live on across the web for years, so it's important to have a consistent, customer-first brand voice. Anything less can breed distrust with users. In a survey by Social Media Today, 86% of respondents said authenticity is important when deciding which brands they support.
It's generally a good idea for franchisors to have a well rounded social media policy in place and to set up and manage a main account for their overarching brand. That way, franchisees can leave the larger social media strategy up to the brand and focus on driving traffic to their stores through local marketing techniques.
The reason behind this line of thinking is that when franchisees take on social media without the appropriate amount of time, budget or training, the results can spell disaster for a brand. Even if it's behind a screen, you are dealing with real people with real emotions. From losing control over the brand voice to inconsistent or unacceptable customer service, negative interactions on social media can spread like wildfire and cause considerable damage. Even one poor social media experience from one of your franchisees could mean a customer is 50% more likely to boycott your brand.
As Sprout Social explains, "Your organization needs a governing body, the franchisor, to ensure that those interacting on social media under that brand umbrella are posting appropriate content and engaging when necessary. The key for franchisors is to strike the right balance between protecting their brands while empowering franchisees to engage with customers and share relevant content." A detailed social media policy can help franchisors avoid problems before they begin by setting expectations for appropriate and inappropriate online behavior, assisting with strategy and protecting the franchisor from legal problems (in the event of an all out social media crisis).
For a social media policy to work, franchisees must have a clear understanding of everything outlined in the policy and the implications of improper use. The policy should be baked into the franchise agreement, with clear documentation that outlines the brand guidelines, rules and procedures for both positive and negative interactions on the platforms.
This is an opportunity to build an authentic, trustworthy and fun place for your customers to interact with your brand, so every action must be calculated.
You need to build trust with not only your customers, but your franchisees. What works at a national level might not speak to the unique needs of local business owners and customers. Make sure your strategy works nationally but can be adapted locally. Keep an open line of communication between you and your franchisees for success at both the national and local levels.
Coupled with a support system for franchisees, a thorough social media policy keeps everyone on the same page and able to support your social media initiatives. Nurture your franchisees so they can nurture your customers!
Pro tip: Kogneta has a great resource on how to craft social media guidelines for your franchisees.

How Franchisees Can Leverage Local Marketing Techniques to Stand Out From the Competition
The franchisor has laid out their national and localized marketing strategy and has set up a social media policy. Now, you have to follow it! Go through every detail with a fine tooth comb and familiarize yourself with company objectives and the resources available to help you learn and grow as a franchisee and ambassador for the brand. Once you have a firm grasp of what's expected of you and what they're offering nationally, you can work on local marketing initiatives to get customers in the door.
Remember, the franchisor's focus is on the big picture to help the national brand succeed as a whole. That means it's up to you to take local marketing in your own hands. No one knows your local community better than you, so use your local knowledge to make a splash and help your business flourish.
To get the most out of your successful local marketing strategy, Hiver suggests:
Finding out what resources and support the franchisor offers first, then determine your local marketing budget
Keeping an eye on what the competition is doing and figuring out what you can do better
Reaching out to local influencers, bloggers, reporters and businesses to build relationships (be aware of local events to attend or sponsor)
Having a visible and positive presence in local search results (Google Posts, Google Maps, review sites, etc)
Staying in touch with your community and customers
Giving back to the community

Going Local with Facebook Location Pages
While the franchisor will most likely own the main social media accounts, Facebook has a great function that allows brands to build out custom Location pages that tie back to the main account. That means you have an opportunity to control a portion of the social media presence on Facebook, specifically tailored to your audience with local reviews, directions, maps, and content that speaks to the community.
Work with your franchisor to set up a Facebook Location page:
Go to the business' Facebook Page and choose 'Settings' in the top right.
Choose Locations in the bottom left (if you can't see this option, first set up locations).
You will have to remove your address and ratings/reviews from the main page. Facebook explains, "This is because when you have multiple business locations, your main Facebook Page should be a 'parent' for your brand, with 'child' Facebook Pages for each address."
From the drop down menu, either 'Choose an Existing Page' (if you have a page already set up) or 'Create a New Page'.

Pro tip: Leverage Facebook advertising for Location pages to inexpensively engage with your local audience. Facebook advertising is highly targeted, filtering by age, gender, occupation, location, interests and much more. Plus, the data you gather can teach you a lot about your audience and help you hone your own local marketing campaigns and efforts. Learn more about harnessing the power of Facebook for your business here.
While Facebook makes it easy for franchisees to set up their local Location pages, other major social media platforms are not as local-friendly. Although every situation has its unique considerations, local franchisees generally don't have the resources needed to make their presence worthwhile on platforms like Instagram, Twitter or LinkedIn. If this is the case, it's better to let the brand handle these accounts.
Although you may feel disconnected from a lot of the franchise's social media action, you can always leverage promotions, events, hashtags and campaigns happening at the brand level for your local business. There may even be opportunities to contribute to the national brand's account in unique ways. Keep in touch with the franchisor and brainstorm ways the national brand can shine a spotlight on your local business. That's a win-win.

Better Together
Franchisors and franchisees have a symbiotic relationship. Franchisors have the budget, expertise and resources to drive growth for the brand through national marketing initiatives and social media campaigns. They power the 'big picture' wins for franchising success. Franchisees know their customers and have a finger on the pulse of their local communities. Their expertise is vital to local marketing success and gets customers in the door, which drives overall growth.
Here's a great summary of the strategies franchise owners and operators can use to leverage each other's strengths:
Establish a content collaboration system
Open a communication channel to share positive/negative customer feedback and what you've learned from your data (franchisors can use these learnings to update brand guidelines, local marketing toolkits and social media policies)
Share your national content calendars and local calendars and see if there's anything that can be leveraged locally or nationally

When franchisors and franchisees work together with local marketing, everybody wins.