5 Benefits of Using Web.com's new QuickStart Website Service
The Internet provides opportunities to find customers and plays a huge part in how people do their shopping, yet many small businesses still don't have a website.
But we get it. If you're a small business owner with limited time and little to no coding knowledge, building a website is intimidating. You're not even sure where to begin.
Fortunately, there are website builders available that make it easy to start your online venture. Web.com's QuickStart website builder service provides personalized website design services to create an impactful site from scratch to launch.
QuickStart: Leave Your Website to the Pros
QuickStart Website service is made to help small business owners build and launch a professional website quick and easy without the hefty costs.
Our team of design experts will take care of the website development and design so you can focus on scaling your business to the next level.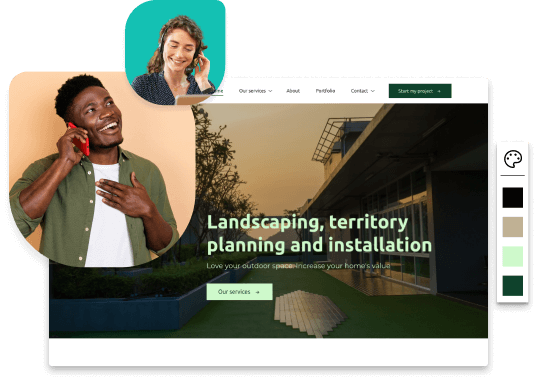 5 Solid Reasons to Use QuickStart
Affordable
Website development and maintenance can be pricey. As a small business owner, you want to get the most out of money by paying for excellent service while staying within your price range.
QuickStart offers an affordable website development package, which includes:
Logo Design

Domain Name & Privacy

Business Email

SSL Certificate

Easy-to-use website editor
Designed by Professionals
Our QuickStart website service is perfect for business owners on a tight timeline or simply overwhelmed with the design aspect of getting their site up and running. We make it easy – our professionals will have your tailored website up and running in as little as seven days!
SEO Optimized
No matter how appealing your website is, it's useless if potential customers can't find it. You need a website that's optimized for search engines and users to appear in search results.
With QuickStart, we take SEO factors into account not only when building your website but also when creating the content for site visitors to see. We will code your site in a way that communicates the specifics of your pages to help users easily find you and ensure your site navigation is search engine-friendly. We'll also use all the best practices when it comes to drafting your copy – meaning we'll do the heavy lifting of keyword research, meta tags, image tags and all the other nitty gritty!
This will, in turn, boost your website's credibility with search engines and drive profitable traffic to your website.
Quick Delivery
Time is money, especially when you're a small business or start-up. QuickStart can build and launch your website in as little as one week. We can get it done quick and you can keep running your business!
Easy Editing
Once your website is published, our experts will continue to make any changes you request for 14 days. But, as a business owner, we know you'll want complete control of your website. After your website goes live, and the 14 day period ends, you can modify your site as you please with the easy drag-and-drop website editor. If you'd rather leave it all up to our team, our experts can continue to be the ones to make updates and changes, long after you hit publish!
Launch a Professional Website Made by Pros in an Instant
With QuickStart, launching your website is now easier and faster. It's light on the budget, hassle-free, SEO-ready, and delivered speedily.
Bolster your brand to the next level using the best website builder for small businesses. Let Web.com help you on your path to success.